A small bathroom can still make a major statement. Camille's powder bath is a testament to that. And if you don't have the budget or time to do a full remodel, it's amazing what a fresh coat of paint can do. Choosing the right paint colors for small bathrooms can be a simple, budget-friendly, yet transformative change. Color is also an important factor in determining how the size of the space feels, no matter how big or small it actually is. Light colors can make the walls seemingly recede, making ceilings feel taller and rooms feel wider. Darker colors can draw your attention to certain features, away from others, and create a unique vibe. 
Not only can the right shade of paint make the space feel larger, it can make it feel brighter, too. We all know the importance of good lighting in bathrooms. Both the lighting and the colors affect the way that we see ourselves in the mirror, which is another reason why choosing the right paint colors for small bathrooms is so important. 
There are hundreds of thousands of different paint colors available, which leaves plenty of room for creativity. However, having so many options sometimes leads to decision fatigue. We reached out to some of our favorite designers for their go-to paint colors for small bathrooms to make your decisions easier. The best thing about paint is that it's just paint. If you end up not liking the feel, you can just cover it up.  
Explore the paint colors for small bathrooms recommended by our expert panel of interior designers: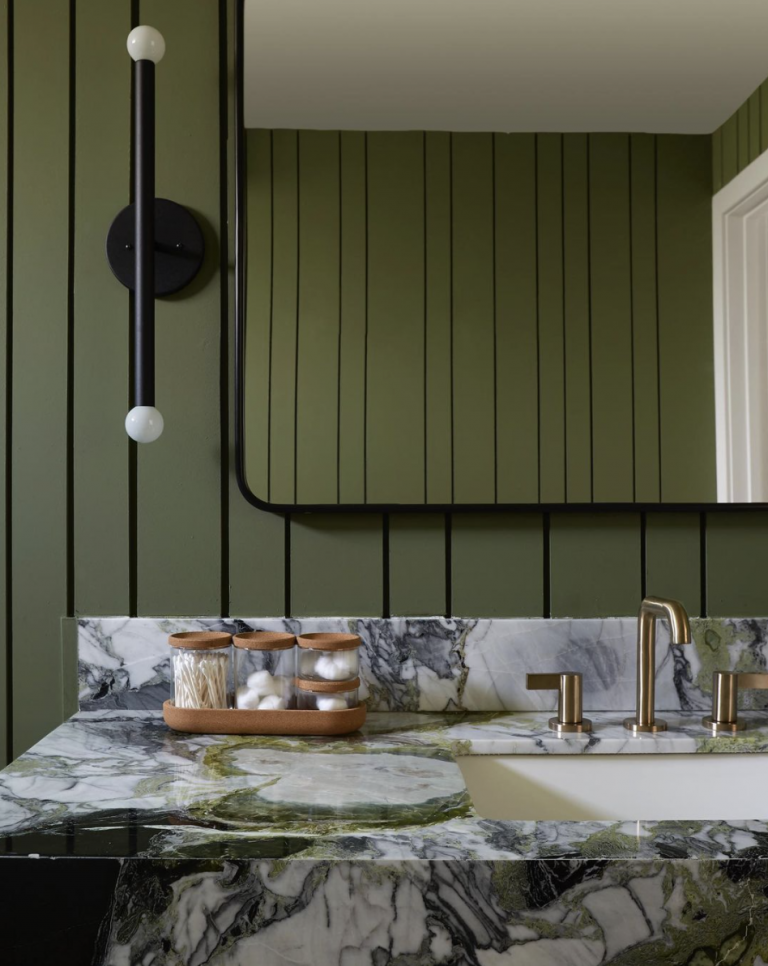 Photo courtesy of Nina Freudenberger.
"I love this color for bathrooms. I think the right green can be magical for a small space such as a bathroom. This rich green feels elegant, cozy, and cool all at the same time." — Nina Freudenberger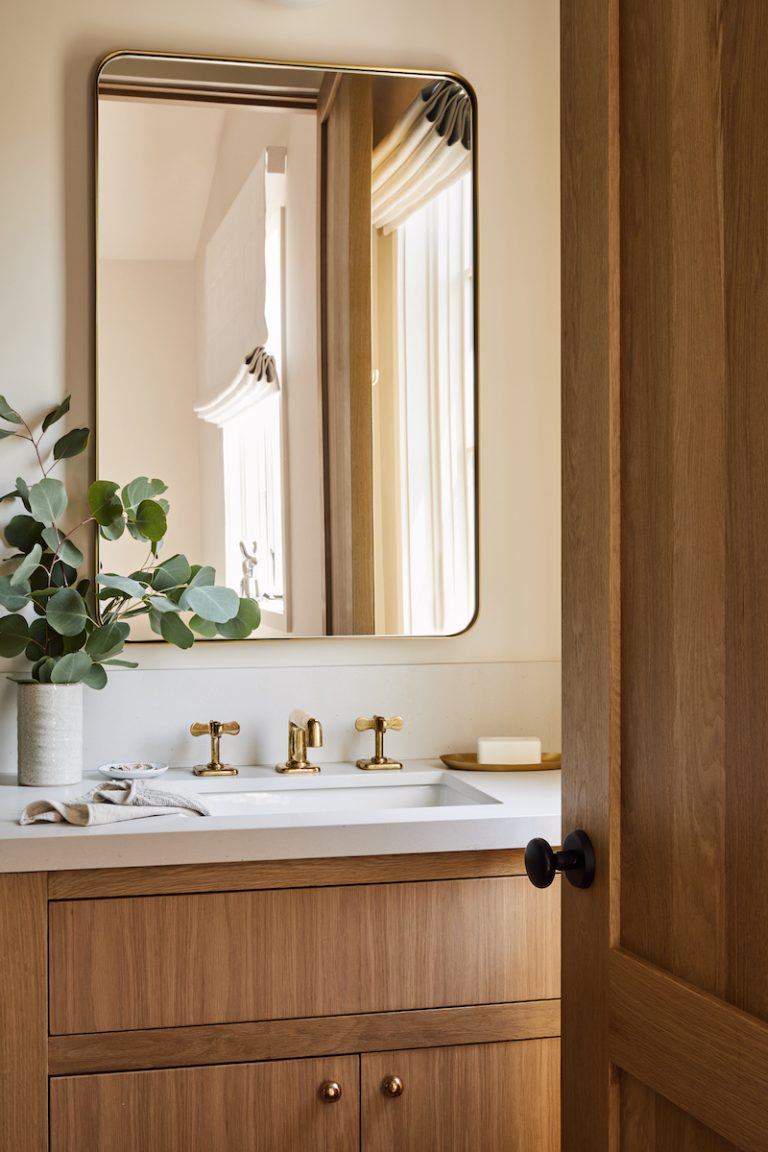 Photo by Sam Frost for Studio Life/Style.
"China White has been a classic go-to for us… whether that's for a house white or a small bathroom like pictured above. We think pairing the bathroom with a creamy white allows a small space to feel bigger than it actually is! It also feels serene against the millwork throughout." — Shannon Wollack and Brittany Zwickl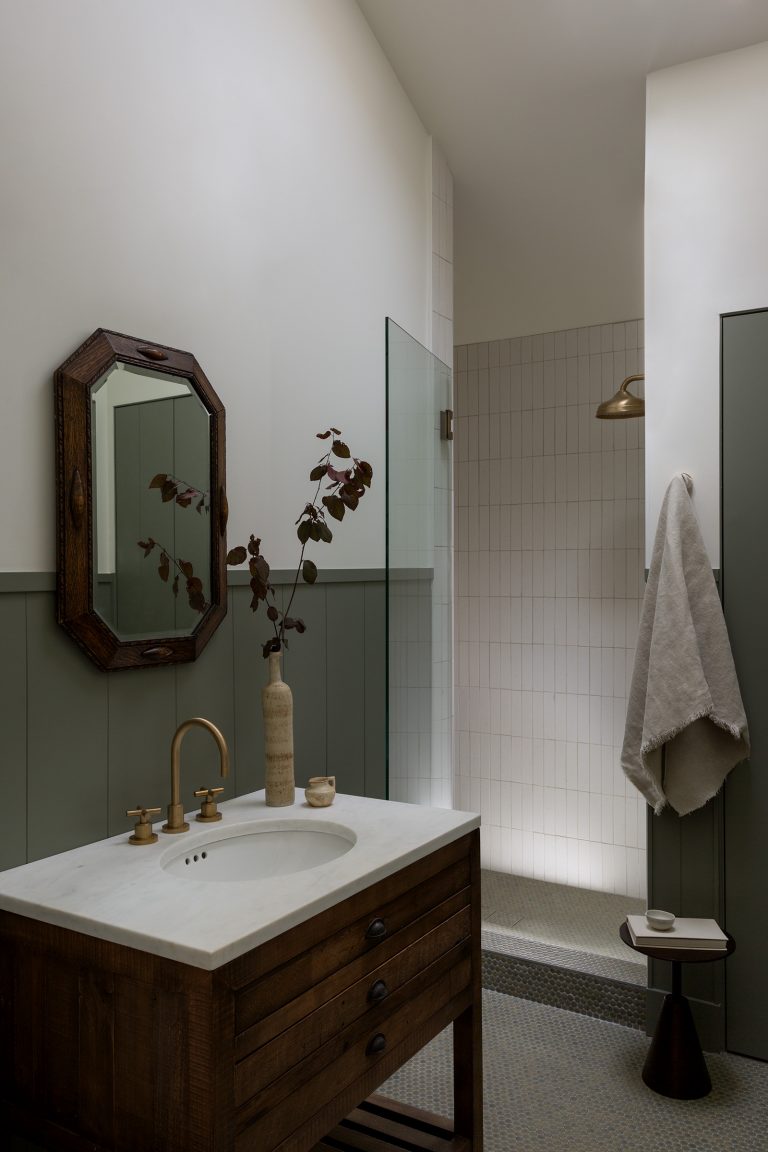 Photo by Amy Bartlam for Transition State.
"We tend to stick with white in bathrooms regardless of size for best makeup lighting. DE Milk Glass is a very soft warm off-white we recently discovered that reflects great with any kind of light—both natural and artificial. For the green we used Dunn Edwards Stone Creek which had that perfect historical English farmhouse feel." — Lauren Schneider
BONUS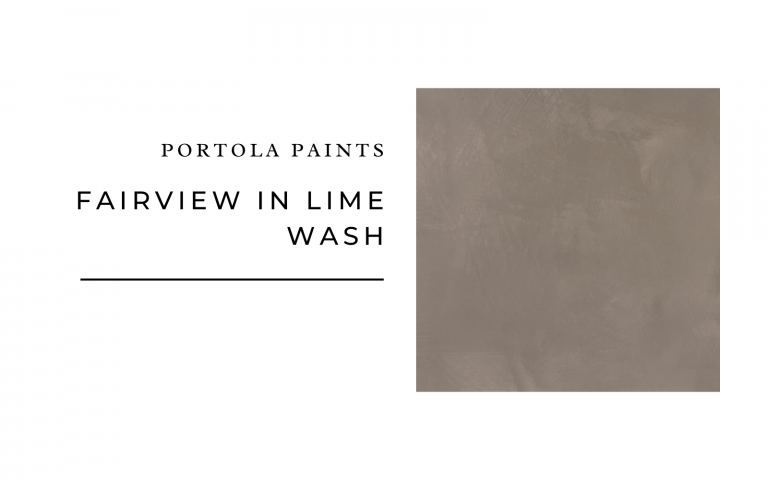 "We recently did a bathroom using *Portola Paints in Fairview. We used a Roman clay finish which adds such a rich, yummy, smooth texture to Fairview's gorgeous warm camel tone. We did a matching Tadelakt plaster at the shower to eliminate wall tile altogether for a seamless look. The end result was a beautiful blend of old world Euro meets contemporary." — Lauren Schneider
*This paint color was semi-custom. They did Fairview color way from Portola Paint's Lime Wash collection but did it in a Roman Clay texture.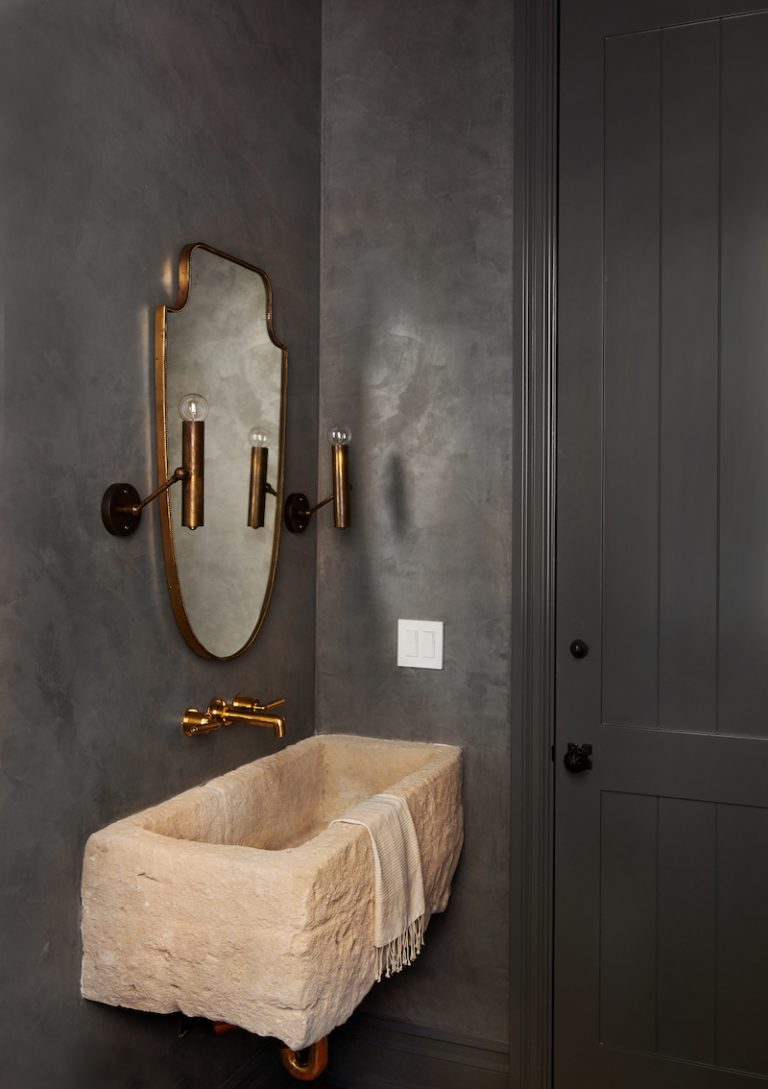 Photo by Tessa Neustadt for Amber Interiors.
"Just because a powder room is small, doesn't mean you can't go dark and add a touch of drama! We went with Masion by Portola Paints in a Roman clay finish for added texture and movement to create a mood. It was the perfect backdrop for our natural limestone sink and a flash of brass for a pop of brightness." — Amber Lewis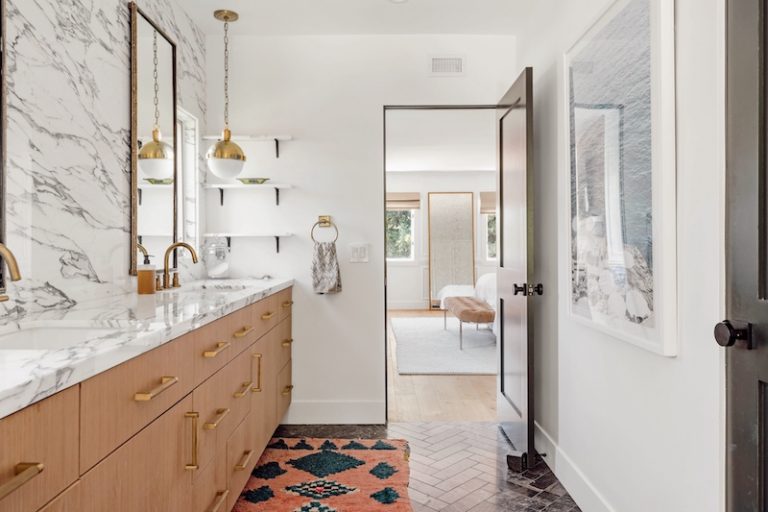 Photo by Dan Soloman Photo for Kim Lapin.
"I love using Chantilly Lace by Benjamin Moore when I'm trying to modernize and brighten up a space that feels a little dull. When you have a lot of natural light like this bathroom does, the color looks crisp, bright, modern and airy with no yellow or green undertones. It is a true white and perfect for that California modern vibe to rejuvenate a space which is exactly what this Los Feliz modern Spanish bathroom needed. However, if a bathroom is small with no natural light, I lean into a dark and moody color because I think it looks more intentional vs. a badly lit white room that feels sterile and flat." — Kim Lapin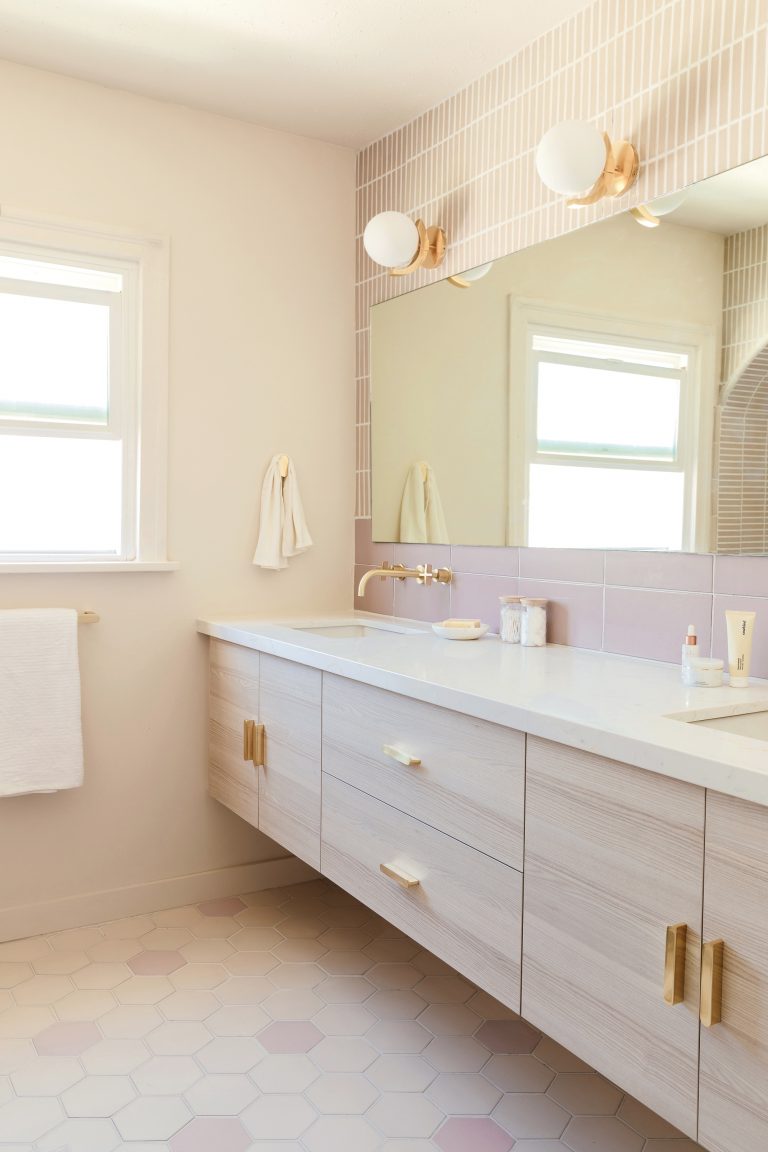 Photo by Monica Wang for Anne Sage.
"In this 8'x8′ bathroom, I tiled the two larger walls but needed a paint color that would play a successful supporting role on the two smaller walls, and County Line by Portola Paints was just the ticket! This inviting shade of off white bounces light around the room for a bright and airy effect, and it perfectly complements the modern California Deco vibe created by the beige and mauve tile backsplash and the white oak veneer cabinet!" — Anne Sage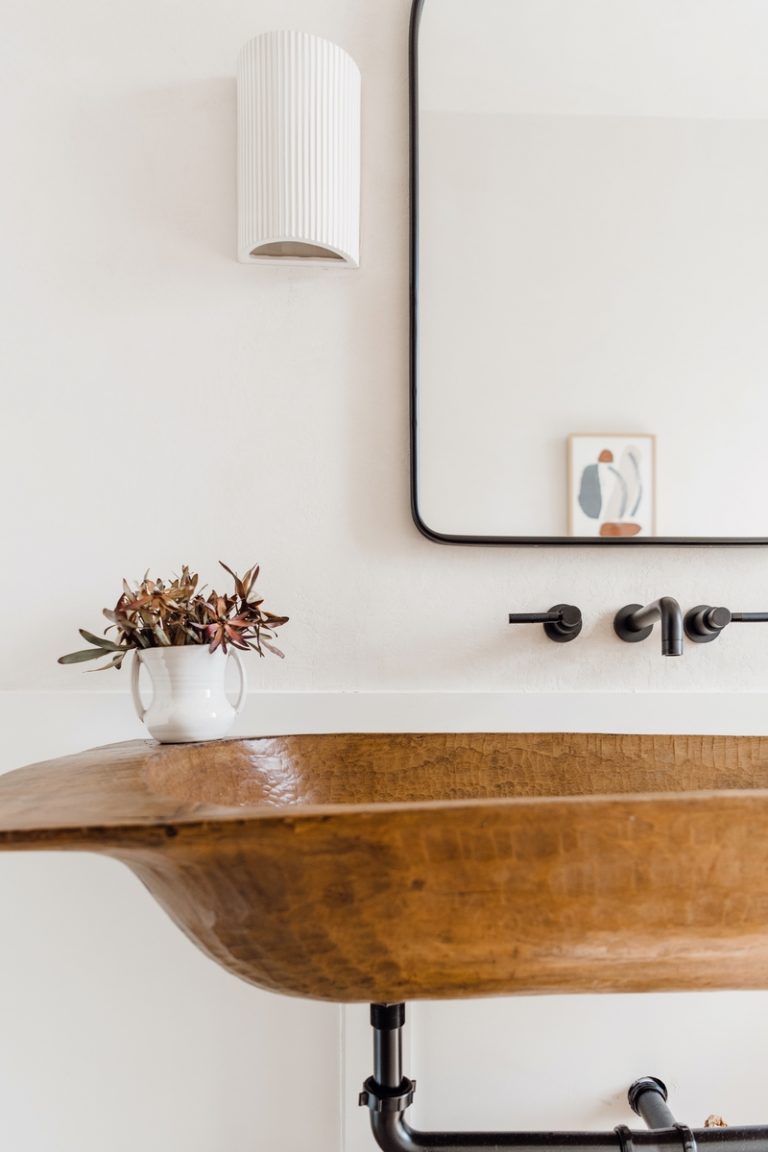 "It is a perfect shade of warm white and it allows for light to reflect off it. Light shades help to paint the illusion of a larger space." — Javaneh Pirooz
BONUS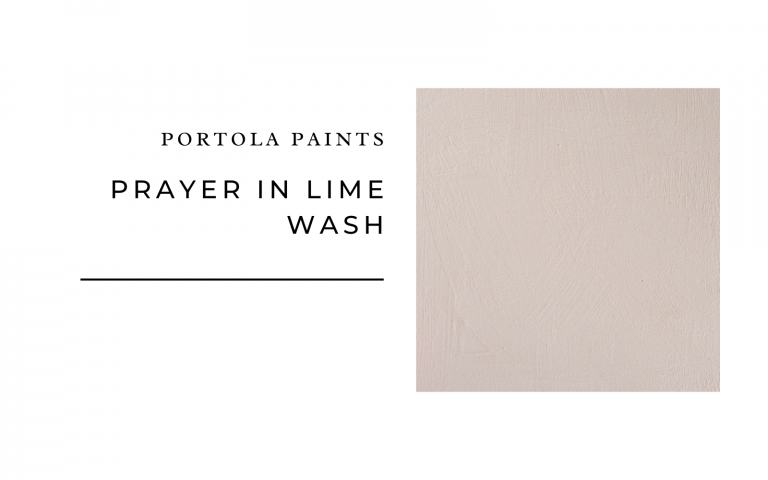 "I love a textured wall moment so I suggest a light colored lime wash on the walls and ceiling of a small space. It helps to create the illusion of movement and draws the eyes up. Make sure to use a proper sealer to account for moisture." — Javaneh Pirooz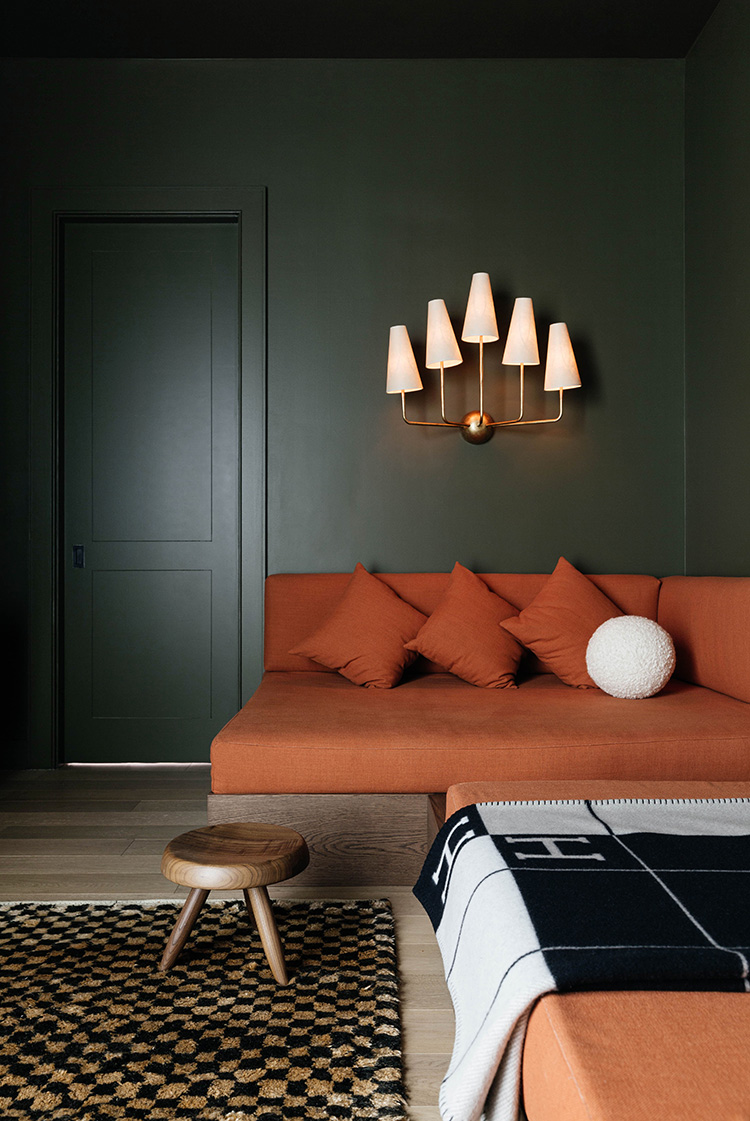 Photo by Nick Glimenakis for Tali Roth Designs.
"I always love a dark color for bathrooms. In a small space you have to create mood and depth otherwise it will feel like a jail cell. I also love the shade Quinn from Portola Paints & Glazes!" — Tali Roth
Editor's note: While the image above isn't a bathroom, it is from one of Roth's gorgeous projects using the paint she recommends above so you can visualize the mood it would evoke in your small bath or powder room. 
Save this post for when your small bathroom needs a fresh look.