If your kitchen remodel includes installing a new cooktop, now is a great time to make the switch to electric. Although gas has long been the standard, electric cooktops offer plenty of performance in the kitchen while lowering your carbon footprint and eliminating sources of indoor air pollution. Bonus: By choosing a cooktop and wall oven over a range, you separate two prime heat-generating appliances, which can make your kitchen a lot more comfortable for cooking.
The Expert: I've been cooking with an induction stove for the past five years, and before that I cooked with a vast motley crew of electric ranges, including even a few old school coil models. I'm an avid home cook, so I use my stove at least once a day and would definitely say my induction range plus hood has vastly improved my life. We no longer have to frantically clear smoke just because I want to wok-fry some noodles, for example. One of my favorite features is the power boost setting, which increases power by 50 percent to keep that pasta water going on rapid boil even after I add noodles. For the past year, I've been reviewing kitchen appliances and gadgets for Input, Popular Mechanics and, when I remember, my Instagram.
With electric cooktops, you have two big categories to choose from at the outset: radiant or induction heating. Here's what you need to know about each type, along with other features you should consider and reviews of eight great electric stovetops.
How Radiant Cooktops Work
Radiant cooktops heat pots and pans with indirect heat, either from an electric coil or solid metal disc heating element or with radiation from a halogen bulb. There are also semi-halogen models that combine these two heating elements. Halogen bulbs light up immediately and vividly when they turn on, which is an appealing safety feature for consumers. The visible red light signals the burner is on, though the invisible radiation is what's doing the work for cooking.
Regardless of element design, the indirect heating process works like this: The coil or bulb transfers heat to the ceramic or glass top which then transfers heat to your pot and whatever's inside.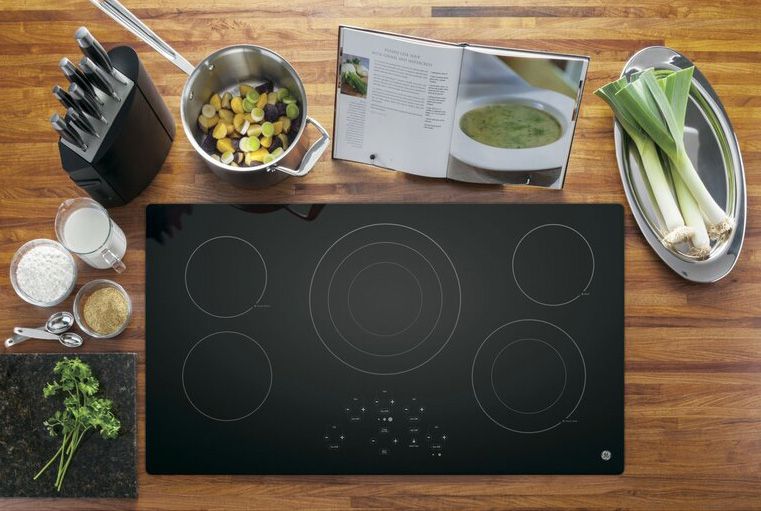 How Induction Cooktops Work
Instead of transferring heat indirectly, induction cooktops generate heat through magnetic energy. Here's how it works: The heating element housed underneath the glass or ceramic top is a coil made of copper. When you turn on the burner, an electric current flows through the coil, which in turn produces a magnetic field around it.
The electrons in your cookware, which must be made from magnetic material to work on an induction cooktop, will then try to align with the magnet in the cooktop, causing your pot or pan to vibrate tens of thousands of times per second. The friction of that vibration quickly generates energy and is what heats up your cooking vessel. Induction cooktops do make some noise as a result of the vibration. I don't hear it anymore, and I'm pretty noise-sensitive, but other users have mentioned this in reviews.
Because induction works by generating heat in the pan or pot itself, this type of stovetop heats up much faster and tends to generate less smoke than a radiant cooktop. However, you can opt for radiant or induction models that have downdraft ventilation built in.
🧲 Tip: Many cookware sets are induction-friendly and say so in the product information. If you don't have that handy, grab a magnet and see if it sticks. If it does, the cookware will work on your induction cooktop.
Cooktop Size and Number of Burners
Stovetops come in a range of sizes, from smaller 24-inch to larger 42-inch wide models. The most common sizes are usually 30 or 36 inches. Cooktops also offer a range of burner options, usually four or five. According to Emily Paster, a chef and cookbook author who remodeled her kitchen in 2018, that fifth burner can offer much-needed space. "If you've got a four-burner cooktop and you could potentially have three things going, that could get real crowded," she says.
Paster uses a portable induction cooktop for teaching classes. She says these appliances can be very handy if you need an extra burner during the holidays or even if you have a very small kitchen. In choosing a cooktop, she recommends avoiding the temptation to buy every appliance in the same brand even if there's a discount. Some brands do cooktops better than refrigeration, for example, and vice versa.
Cooking Surfaces
Electric cooktops mostly come in smooth-top form these days, which means the heating element is housed underneath a layer of tempered glass or ceramic, but you can still find electric cooktops in the older visible coil style, too. Smooth-top stoves are far easier to clean than exposed coils, though it's easier to replace a coil unit if one breaks. To repair or replace a single burner underneath a glass cooktop, you or the repair person will need to remove the entire surface top first. You can use cast iron or other heavy types of cookware on your smooth-top without damaging it, but you need to be careful in how you use it (do not drag your cast iron across burners, for example).
How We Evaluated
To recommend the cooktops below, I combined my own experience using a Bosch induction range at home with reviews from expert sites including Good Housekeeping and The Spruce. For each model, I evaluated its size, number of burners, features, price, and reliability based on user reviews from Amazon, Lowe's, AJ Madison, and Wayfair. Our list of the eight best electric cooktops includes both radiant and induction options, at different price points, in several sizes, and with various features like power boost and portability.
Most Affordable
Gasland Chef 30-Inch Built-In Electric Cooktop
Gasland Chef
amazon.com
$359.99
Key Specs
Type: Radiant

Size: 30 in.

Number of Burners: 4

Warranty: 1 year
If you're looking to spend under $500 on your cooktop but still want quality, check out this model from Gasland Chef. It looks as sleek as higher-end models with nice functionality, too: sensitive digital controls that range from gentle simmer to rapid boil and two expandable burners.
Some reviewers cite overly-sensitive touch sensors that turn off unpredictably
Best Value
GE Profile 36-Inch Built-in Touch Control Electric Cooktop
Key Specs
Type: Radiant

Size: 36 in.

Number of Burners: 5

Warranty: 1 year
If you're looking to spend a little less for an electric cooktop but still want reliability and a bigger appliance, look no further than this GE 36-inch model that features five burners (two of which can accommodate different size cookware), a melt setting, a surface heat indicator light, and touch controls.
Two size-flexible burners
Handy melt setting
Tiny lettering on controls
Reviewers say it's tough to keep clean
Best Value Induction Cooktop
Frigidaire Gallery 30-Inch Induction Cooktop
Frigidaire
lowes.com
$1,749.00
Key Specs
Type: Induction

Size: 30 in.

Number of Burners: 4

Warranty: 1 year
This model comes in at under $2,000, which is a good price for an induction cooktop, as these tend to be pricier than radiant electric stoves. It doesn't have as many features as the other models, but it does come with a surface heat indicator light and a timer.
Great value
Easy installation, per reviewers
Very basic controls
Only one large burner
Great Features
GE Profile 36-Inch Built-In Touch Control Induction Cooktop
Key Specs
Type: Induction

Size: 36 in.

Number of Burners: 5

Warranty: 1 year
This GE Profile induction model gets high marks from consumers across retail sites, earning an average of 4.5 out of 5 stars from 599 reviews. The cooktop has a black ceramic top and offers some nice additional features like a melt setting and burner syncing to accommodate larger cookware or a griddle. Control locks help you avoid accidentally turning it on (you'll be surprised how easy it is to accidentally hit buttons on these), while a hot surface indicator light adds safety.
Nice array of features like burner syncing
Controls are very clearly labeled
Most Reliable Induction Brand
Bosch 800 Series Induction Cooktop 36-Inch
Bosch
lowes.com
$2,499.00
Key Specs
Type: Induction

Size: 36 in.

Number of Burners: 5

Warranty: 1 year
I've been cooking with a Bosch induction range at home for three years now, and I absolutely love it. If you've been cooking with gas, you'll need to get used to adjusting the heat with a button rather than dialing in the flame, but once you do, it's worth it. The cooktop comes with a power boost mode, as well as a control lock and residual heat indicators. The center burner is also 12 inches in diameter, which gives you a nice area for larger pots and pans.
Sleek look
Long history of reliability
Expensive
Some users find controls hard to read
Best Portable Electric Cooktop
Duxtop Portable Induction Cooktop
Duxtop
amazon.com
$116.96
Key Specs
Type: Induction

Size: 14 x 11 in.

Number of Burners: 1

Warranty: 2 years
Paster relies on a Duxtop portable cooktop when she teaches and says it's worked well for simmering jam and similar cooking tasks. This portable induction machine can also give you an extra burner during crowded holiday cooking sessions, Paster says. Use it to keep a soup or sauce on simmer while the rest of your cooktop is in use. It's rated 4.5 out of 5 stars on Amazon based on nearly 4,000 reviews and comes with a two-year warranty.
Can serve as extra burner
Can't replace a full cooktop
Best 42-Inch Cooktop
Miele KM 6377 Induction Cooktop
Miele
appliancesconnection.com
$3,999.00
Key Specs
Type: Induction

Size: 42 in.

Number of Burners: 5

Warranty: 1 year, with an additional year if installed by authorized Miele installer
Miele is a well-respected European brand of induction cooktops and other home appliances. Although this model isn't cheap, ringing in at four grand, it's 42 inches wide and offers bridge heating elements on both sides of the cooktop. Other features include twin power boosters for faster cooking and a keep warm function, which is a rarity among induction cooktops and something former gas range users will appreciate.
Well-known and reliable brand
Beautiful, sleek design
Smart features like keep warm mode
Best 24-Inch Cooktop
Zline 24-Inch Induction Cooktop
Zline Kitchen and Bath
wayfair.com
$749.95
Key Specs
Type: Induction

Size: 24 in.

Number of Burners: 4

Warranty: 1 year
On the other side of the sizing options is this 24-inch model, which is highly rated by Wayfair customers. Despite the smaller width, it still has four burners and plenty of features, like LED-lit controls, power boost to give you a surge of power for faster cooking, a keep warm setting, and safety features like a surface heat indicator and control locks.
Very affordable for an induction cooktop
Lots of features for the size
Minimal labeling on controls
This content is created and maintained by a third party, and imported onto this page to help users provide their email addresses. You may be able to find more information about this and similar content at piano.io