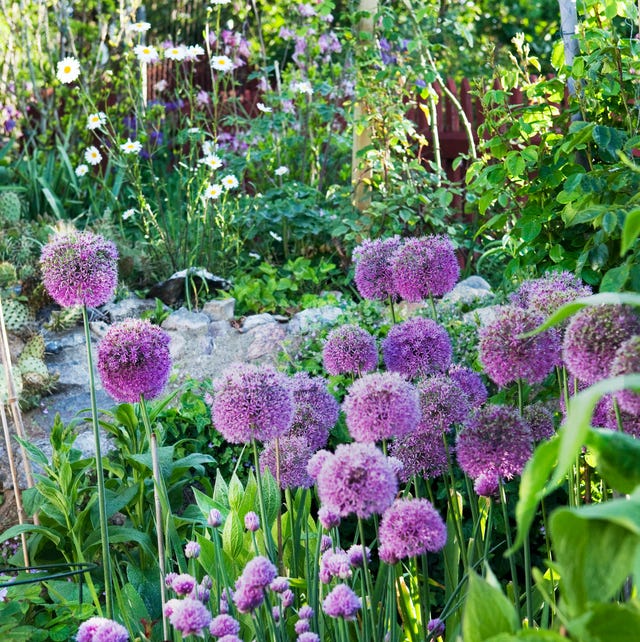 Lena GranefeltGetty Images
Sensory gardens — built to evoke and indulge the five senses — are a great addition to any space. Fantastic places to learn and let minds wander, they are especially brilliant for young children.
All gardens appeal to the senses in one way or another, but there are certain ways you can truly activate sight, sound, touch, smell, and taste using plants and décor.
'Particularly for children, a sensory garden can trigger brand new neurological experiences, which can have an incredibly positive impact on their development,' the experts at All Round Fun explain. 'Exposure to the numerous sights, smells, sounds and textures can improve their cognitive function, whilst also creating a safe, relaxing environment.'
Before you rush to build your sensory garden, first you'll want to decide where to place it. If you are designing with children in mind, place it in a corner where you don't mind mess and choose smaller plants so that they are in reach. If it's for adults, consider a relaxing spot to unwind (we recommend garden hammocks).
Keep reading for everything you need to know about creating your own sensory garden at home…
1. Sight
A sensory garden can be anything from a window box to your entire outdoor space. You'll want to ensure it's a visually stimulating area, so pick plants that exhibit a vast range of shapes, sizes and colours. Some plants that are a feast for the eyes include tulips, alliums and pelargoniums, or even native wildflowers like marigolds or poppies.
If you don't have a large lawn space, create a vibrant mini garden using trellises, raised planters or colourful pots on a patio.
2. Touch
Colour plays a key role in the garden, but we often forget about the importance of texture when creating an inviting outdoor space. Vital for any sensory garden, some of the ways you can incorporate texture is by adding materials such as stone, sand, water and pebbles.
When it comes to plants and shrubs, lamb's ear, cool moss and grasses have very soft surfaces, while tree bark is rough to the touch.
3. Smell
'Different smells are often associated with memories, which makes it important to plant scented flowers in your sensory garden,' All Round Fun suggest. 'Aromatic plants like honeysuckle and roses — as well as herbs like lavender, sage and mint — are fantastic additions to the garden.'
Nothing promotes wellness better than fragrant flowers. If you're hoping to create a space for reflection or meditation, the experts recommend you try to include as many scented shrubs and flowers as possible.
'You can also leave scented diffusers near the most-used parts of the garden or burn incense in a partially enclosed area. As you take deep breaths, inhale the scents of your garden to feel truly at one with nature,' All Round Fun explain.
4. Sound
From the gentle babble of water to the chatter of wildlife, sound is an important dimension of a garden. It might seem challenging to plant with the sense of sound in mind, but there are lots of ways you can achieve this.
If you're designing a sensory garden for children, pick up some outdoor equipment designed to encourage water play. 'Known to help develop children's gross motor skills, it'll also help with coordination and fitness as children lift, reach, carry and pour — so it has some fantastic developmental benefits too,' the experts explain.
Some of the plants to get your hands on include beautiful love-in-a-mist, brizia (also known as 'quaking grass') and pheasant's tail grass. Small trickling water features and hanging bamboo chimes are other wonderful ways to bring your garden to life — and stimulate the senses.
5. Taste
Taste is vital when it comes to creating your sensory garden. Edible fruits, herbs and spices will entice the taste buds, while your own veg patch will provide a bounty of fresh produce.
All Round Fun suggest: 'Hardy herbs like lavender, sage and rosemary are particularly easy to grow in pots that can be brought inside in winter. Encourage visitors to your garden to choose aromatic herbs to add flavour to drinks or meals. If you're worried about pests, grow them in hanging baskets — this will also add a dimension of height to your space.'
Follow House Beautiful on Instagram.
---
This content is created and maintained by a third party, and imported onto this page to help users provide their email addresses. You may be able to find more information about this and similar content at piano.io