I'm one of those seemingly smug homeowners blessed with a bathroom boasting double sinks. And yes, it is nice to have some separation from my husband's shaved-off man hairs. But I have a lot more to say about this beloved amenity, and—brace yourself—it's not good.
Double sinks are revered as a must-have across HGTV. Interior designers and house flippers alike say they elevate a mere bathroom to a whole new luxurious level. And if you're thinking of dollars and cents (and frankly, who isn't?), double sinks are a smart return on investment. If you ever decide to sell your home, buyers will very likely enter your bathroom and gush, "Oh look, honey, double sinks!"
"A double vanity in the primary bathroom is a must if the space allows, but it's also practical since it adds value to your home," says Jamie King of JLK Interiors.
"A single sink in the master bathroom looks lonely, and it's definitely less luxurious," says Pamela O'Brien of Pamela Hope Designs, who encourages couples to take it up a notch, with "two mirrors and some glamorous lighting."
On a more subconscious level, double sinks are a sign that you've achieved the dream of coupledom along with the means to own or rent a home where you can maintain your own turf, in a place where privacy is paramount.
After all, sharing a bathroom is often a matter of necessity rather than choice. Unless you have room for two bathrooms, double sinks are supposedly the next best thing.
Yet as someone who's achieved the dream of double sink-dom, I've since realized that it's not all it's cracked up to be.
What's wrong with double sinks
For starters, I'm not alone: None other than Drew Barrymore detests double sinks, too.
The actress and beauty guru verbalized her distaste on a recent episode of her talk show, "The Drew," with Whoopi Goldberg.
"Nothing makes me angrier than the double sink movement," Barrymore says.
Barrymore's main beef with double sinks? They're a waste of space if you're single, and since she's sworn off relationships for the time being, her antipathy makes sense.
Plus, even if you do have a live-in partner, do you really need or want to use the loo at the very same time? Who needs to floss their teeth right when their other half is tweezing their nose hairs?
Whether you're shopping for a home or remodeling one, heed this warning on the surprising downsides of double sinks.
Double sinks are twice the cleaning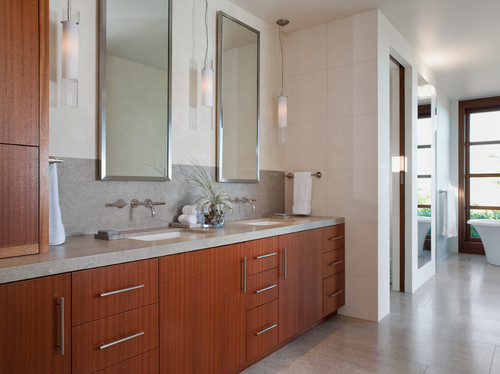 Let's face it—more sinks mean that much more toothpaste, shaving cream, and other foamy bits clinging to the bottoms of the basins. How in the world do these spaces end up looking like this every single day? I could, of course, walk on by the bathroom and let the sinks fester, but I'm too type-A to leave them for long.
And don't forget, two sinks also mean more counter space to clean up, plus hand towels at each end that are no doubt askew, and mirrors above each station to wipe down.
Double sinks mean more clutter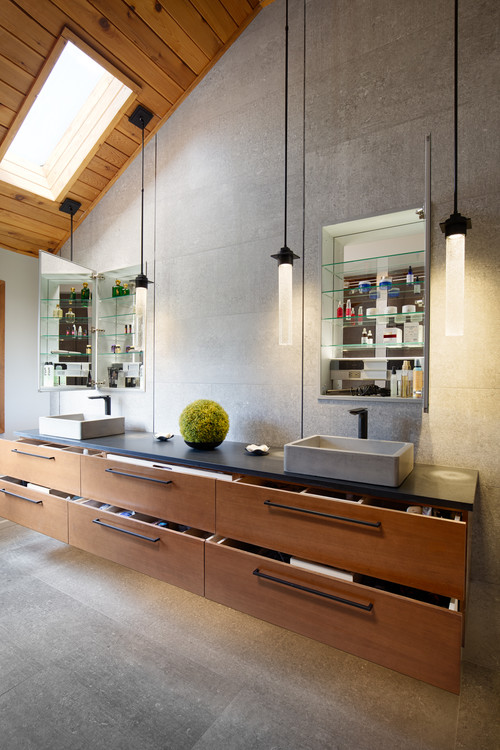 Photo by Lauren Levant Interior 
If you have two sinks, you might also have two medicine cabinets that are no doubt groaning under the weight of beauty products, dental floss, toothbrushes, and other personal care items that need sorting out fairly regularly.
All the bathroom organizing tip stories in the world won't help me get these two spaces under control.
My husband's side alone is truly a black hole that contains ankle braces, lost combs, foot sprays, a 12-pack of toilet paper, the heating pad, two plungers—because he insists they're different from each other—and a sizable collection of small shampoos and hotel soaps.
Bathrooms aren't for couple time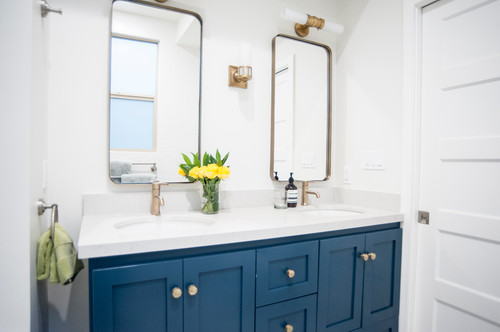 Photo by Houzz
Many real estate agents and decor experts extol double sinks, which allow two people to get ready for the day (or night) at the same time—but that, my friends, is the biggest reason not to celebrate this particular amenity.
Yup, I'll say it: I want to be alone in the bathroom. Please—just give me 10 minutes to brush my teeth and moisturize without having to hear someone else gargle mouthwash and clip his fingernails.
A writer for the Wall Street Journal recently agreed with my aversion to double sinks: "During a remodel a few years ago I decided to install two sinks. Instead, I should have used the space to put in a linen closet. In the seven years since the remodel, the number of times the sinks have been used simultaneously: zero."
In sum, double sinks are something you'll never get to enjoy as they're meant to be. In this sense, they are an empty aspirational beacon homebuyers might flock to that, in reality, has no commonsense purpose. And in an era when every square inch of a house should pull its weight, what's the point of that?