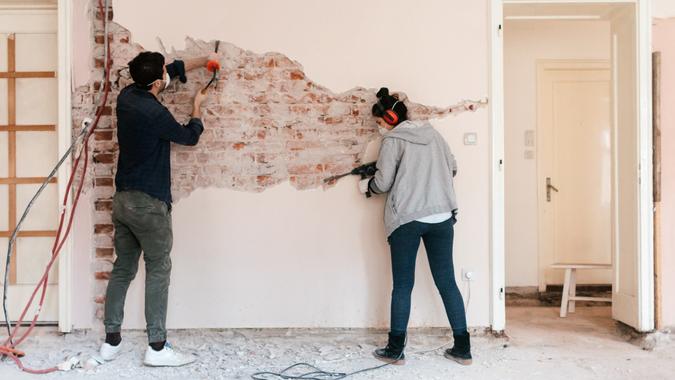 AleksandarNakic / Getty Images
A kitchen can feel like the heart of the house, the place where you spend a significant amount of time, be it eating or entertaining. Because a kitchen is so integral to your home, if it's not making you happy, for one reason or another, you may be craving an upgrade. Yet, kitchen remodels can cost a lot of money if you hire a big contractor to do it for you. In order to keep such a renovation affordable, around or under $10,000, means being very strategic in your approach.
Here we look at tips for how to do a kitchen remodel without breaking the bank:
Save Money: 5 Affordable Ways To Make Over Every Room in Your House
Read More: Home Renovations That Will Pay You Back
Be Realistic
The first step to a budget kitchen remodel is to be realistic. For $10,000 you're probably not going to be able to replace all your appliances, bring in high-end marble countertops or fancy floor tiles. You're going to want to determine which aspects of the kitchen are the most important to you to upgrade and focus on less expensive little fixes that can change the mood or look, such as paint or new light fixtures.
Demolition
Before you put something new in, you have to take the old out. You'll save the most money if you have the skill to demolition something yourself–such as taking out old cabinets, or a kitchen island. But if you don't, expect to pay between $500 and $750 just for the demolition itself, according to Dumpsters.com.
Discover: Renovate Your Home for Under $10,000 — Here's How
Cabinets
You've got a few key options when it comes to fixing up cabinets. One, the cheapest option, is simply to paint them. A lighter, brighter paint will lift the mood and energy of the entire room. If you want to actually replace your cabinets altogether, you can either buy them pre-made from places such as Home Depot or Lowe's or the equivalent, or hire someone to custom make them. Custom-made cabinets tend to be more expensive, but not always. This is a situation where you want to price things out. The blogger for Posh Home, who renovated their kitchen for under $10,000, was able to purchase new cabinets for $4,000 and have them installed for $600. While these prices can vary, if you know what you can spend, then shop around until you find what matches your budget.
Countertops
You might dream of marble countertops, but unless you can find these at a significant discount, that probably won't be budget-friendly. According to Better Homes & Gardens, laminate countertops are the most affordable, followed by tile, and then butcher block wood. You might also be able to refresh existing countertops with sanding and a stain for wood or oil for stone or marble. Look for places that sell discounted or imperfect countertop materials.
Reno: 20 Home Renovations That Will Hurt Your Home's Value
Fixtures
The little things can make a big difference. Small fixtures: knobs, handles, faucet heads, etc., can be replaced for little money but make a huge impact on the style, feel and look of your kitchen. Once you've settled on the bigger picture items such as cabinets, paint color and flooring, you'll be able to pick out the fixtures that can best access and complement your new vision.
Lighting
An immediate way to improve the look and feel of a kitchen is to add new lighting fixtures. Whether you find some cool second-hand ones or even buy them new, the cost of lighting is unlikely to add a huge amount of money to your budget unless you're buying custom-made glass imported from Italy or the like.
Floors
New flooring is another area that can be expensive if you go for the top of the line, but it doesn't have to be with a variety of affordable options. Vinyl tiles are now made to look like stone, ceramic and other materials for a lot less money than the real thing, according to The Family Handy Man.
Learn: 26 Home Makeover Ideas That Each Cost Less Than $500
DIY
While big projects such as cabinet installation, new cabinets and flooring may not be in your wheelhouse to install, there are lots of smaller aspects of a remodel you can potentially do yourself, such as kitchen sink and faucets, tile backsplash, and painting. Whatever you can do yourself will save you on labor costs.
Appliances
Some kitchen upgrades are simply about the appliances–and these are going to be among the more expensive things you purchase, so doing so may mean there's very little left in the budget for other kinds of improvements. Old refrigerators, dishwashers and ovens can hamper your ability to prepare and store food, or get your dishes clean. Maybe what you really need to spend your money on are new appliances and a fresh coat of paint. In which case, you may want to look for sales, rebates, extended warranties and/or used but in good condition appliances, according to The Washington Post.
More From GOBankingRates