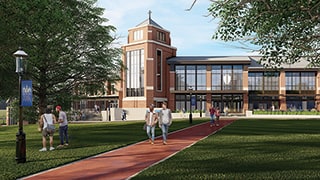 An impressive array of construction and facilities improvements were initiated this summer in alignment with the University's strategic plan, Harvest Our Treasures. These capital improvements – spread throughout campus –  are an additional investment in the Seton Hall community and its students, which is designed to pay dividends now and for many years to come.
  
"Our launch of these major renovations and infrastructure improvements will enhance the University experience for a new generation of Pirates and provide a state-of-the-art campus experience to support our strategic plan and student success," said Associate Vice President John Signorello, of Facilities Engineering and Business Affairs. 
In accord with the University's strategic plan, these facilities improvements and upgrades were designed to "fortify the University's strengths and express timeless values in innovative and exciting ways."
"These projects enable us to honor our educational legacy while advancing our reputation for leading-edge academic, residential and extracurricular spaces for our entire community — students, clergy, faculty, staff and administrators," said President Joseph E. Nyre, Ph.D.
University Center Renovations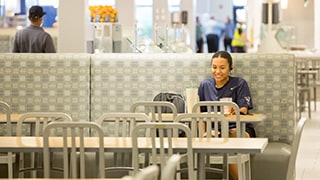 Designed to be inviting and architecturally stunning, the University Center will provide a dynamic community gathering place and revolutionize the student experience. An iconic structure, the Center will function as a vibrant hub of activity and the heart of the Seton Hall community. This summer's renovations and additions included the transformation of the lower-level existing retail area into an extension of the board plan area known as the Galleon Room or Pirate Dining Room. The overall seating capacity increased to more than 1,000 seats and will better ensure that everyone in the University community can enjoy the extended hours from 7 a.m. to 11 p.m. with a variety of culinary offerings from Gourmet Dining. Additional offerings now include a G8 station, providing an allergy friendly food option which avoids the top eight food allergens: peanuts, tree nuts, fish, shellfish, eggs, milk, wheat and soy, with all foods prepared separately. There is also a new larger Asian concept server and a coffee bar complete with a fireplace and an expansive view of the University Green. 
In addition to the renovations on the lower level, the first floor Living Room was transformed into a retail dining space, which under later phases will include more lounge furniture and various forms of gaming (pool, foosball, gaming consoles, etc.). The first grouping of updates this past summer ensures the University community has places to eat, gather and play during the more extensive renovations.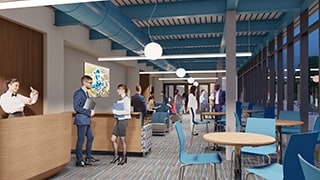 Future renovations, kicking off this fall and estimated to be completed in 2023, will include two informal performance/activities areas, plus outdoor dining will be added to the building's enhanced exterior. The revamped interior will also feature a broadcast studio, a new event space, lounges, expanded areas for retail dining and club activities, along with a new prayer room. In addition, The Main Lounge, Living Room, Pirates Cove, Theatre-in-the-Round, all circulation areas, club offices, offices, Faculty Dining, Retail Dining, the University Club and Faculty Lounge will all be transformed.
The University invites alumni, parents and friends to consider a contribution to this landmark project which will elevate the student experience and become the heart of the campus. Several naming opportunities and giving levels are available. For further information, please contact Jon Paparsenos, Vice President of University Advancement at [email protected] or (973) 378-9801.
Boland Hall South Renovations
Boland Hall is one of the University's oldest residence halls, and although Boland North has received updates in recent years, Boland South has not undergone major renovations in nearly two decades. 
This summer work was completed on the renovated living quarters for Boland Hall South, including student rooms, common bathrooms, and corridors. New furniture has been installed to replace built-in wooden closets and wardrobes. New carpeting lines the corridors, and reinstalled ceilings feature energy-efficient LED hallway lighting. Fully renovated common bathrooms have the upgraded fixtures and modern finishes and HVAC units have been replaced.  A certificate of approval has already been issued in completion and rooms are now occupied. 
Boland Hall Lobby Addition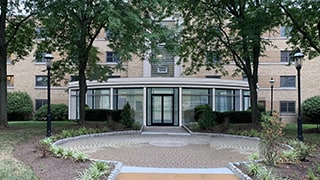 The new entrance lobby addition to Boland Hall will create necessary space for a new security desk consistent with other residence halls on campus and will significantly improve the exterior façade and interior accessibility.  
The glass-enclosed lobby addition is designed to enhance safety, accessibility and energy efficiency as well the overall quality of life in the largest freshman residence hall on campus. The new 1,600-foot lobby will create a dynamic transitional space while improving the flow of pedestrian traffic and increasing ADA accessibility. The addition will feature an enhanced security station and improve safety by providing greater visibility of everyone entering and leaving the building. Work on the lobby is scheduled to begin this fall and take about a year to complete. 
Plans for the improvements have been approved by the South Orange Village Planning Board and are currently under review by the New Jersey Department of Community Affairs for code compliance prior to going out to bid. The anticipated construction timeline is Fall 2021 to Fall 2022.
Walsh Gymnasium Renovation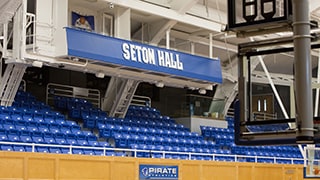 Construction is nearing completion at the beloved Walsh Gymnasium, the first permanent basketball facility completed on campus back in 1941. The renovation and modernization of this historic facility was designed to enhance the experience of Pirate fans and student-athletes alike and includes replacement of the original wooden seats with new ones as well as the replacement of the court-level bleachers with chairbacks. In addition, a new wood gym floor was installed, and final floor line painting and finish are being completed. There is also a new hardwood basketball court and a new digital center-hung scoreboard and videoboard panels to the left and right of the stage as well as a new sound system Final testing is in progress. The contractor is obtaining final inspections and issuance of the certificate of approval.   
Stillman School of Business Trading Room Renovation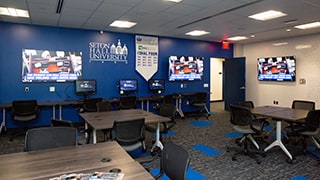 Construction is complete for the Stillman School of Business's expanded trading room, relaunched as the Center for Securities Trading and Business Analytics. Located on the fifth floor of Jubilee Hall, the project expanded the room's capacity by 50 percent, providing state-of-the-art technology for interactive learning, able to accommodate 30 students at a time. There are 14 dedicated terminal locations and additional tables for both small group work and instruction. In addition, new video monitors help to enhance the teaching and learning experience.
  
For additional information, please visit the Investing in Our Future website.